US attorney launches investigation of W. Virginia chemical spill
Associated Press January 10, 2014
A chemical used in processing coal has spilled into West Viriginia's Elk River, contaminating the water supply for 300,000 people and shutting down much of the capitol, Charleston. Both the federal government and the state have declared a state of disaster. http://ow.ly/ssC20
The spill of 4-Methylcyclohexane Methanol, a chemical used in the coal industry, occurred Thursday on the Elk River in Charleston, West Virginia's capital and largest city, upriver from the eastern U.S. state's largest water treatment plant.
Panicked residents have emptied supermarket shelves of bottled water as authorities warn people not to drink, bathe, wash, or cook with the frothy, licorice-smelling water. The chemical spilled last night from a plant owned by Freedom Industries, a chemical manufacturer.
Dr. Rahul Gupta, health officer for the Kanawha-Charleston and the Putnam County Health Departments, ordered the closure of all restaurants and schools receiving water from the West Virginia American Water company.
Schools would be shut on Friday across many counties, including Boone, Cabell, Clay, Jackson, Kanawha, Lincoln, Pocahontas and Putnam, the West Virginia Department of Education said on its website.
On Thursday evening, Gov. Earl Ray Tomblin declared a state of emergency for nine counties.
"Right now, our priorities are our hospitals, nursing homes and schools," the governor said. "I've been working with our National Guard and Office of Emergency Services in an effort to provide water and supplies through the county emergency services offices as quickly as possible."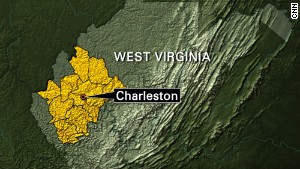 The declaration affects nine West Virginia American Water customers in Boone, Cabell, Clay, Jackson, Kanawha, Lincoln, Logan, Putnam and Roane counties.
Freedom Industries said that its best trained emergency response team was on the scene.
The Elk River flows into the Kanawha River in downtown Charleston. The Kanawha eventually flows into the Ohio River at Point Pleasant, about 55 miles to the northwest.
Senate Majority Leader John Unger, D-Martinsburg, said all committee meetings have been canceled and lawmakers will adjourn until at least Monday. Other government offices also will be closed.
Unger, who co-chairs the Joint Legislative Oversight Commission on State Water Resources, said dozens of miles of pipe are affected by the spill.
"Flushing it out, that's going to take some time," Unger told The Associated Press. "You can imagine the infrastructure of the piping through the city and all of those counties."
McIntyre and Tomblin said boiling water first to remove impurities won't help as it sometimes does.
"Don't make baby formula," McIntyre said. "Don't brush your teeth. Don't shower."
President Barack Obama signed an emergency declaration authorizing the Federal Emergency Management Agency to coordinate disaster relief efforts.
"But...in the scheme of things, the crisis in West Virginia may be more relevant to where America is at as a nation these days. I mean, the grand themes of the Christie scandal -- revenge, loyalty and betrayal -- are timeless; just buy "The Godfather" trilogy on demand and you've pretty much seen the story. But the bizarre case of a company called Freedom Industries may say more about 2014, and our current mania for shunting aside protecting our planet in the name of profits and what businessmen like to call "freedom," in a way that the New Jersey story ever will.
Read this profile in the Charleston Gazette (which is doing an outstanding job covering the crisis) and you'll wonder, as many are, how this kind of operation was allowed to store up to 1 million pounds of a highly dangerous chemical used in coal production, and to do so on the banks of the river that supplies the area's drinking water. For example, for hours the only detailed information on the spill was on the Facebook page of a girlfriend -- Kathy Stover-Kennedy -- of a Freedom executive:
Stover-Kennedy stressed that the spill was an accident and said that Farrell has received threatening and frightening messages from people around the world.
"I'm not asking for anyone's sympathy but a little empathy wouldn't hurt. And just so you know, the boys at the plant made and drank coffee this morning! I showered and brushed my teeth this morning and I am just fine!" Stover-Kennedy wrote on her personal Facebook page.
The firm's roots are dubious:
"[Founder Karl] Kennedy is still listed as "incorporator" on the secretary of state's website, but a woman who answered the phone at Freedom Industries said he left the company "years ago."
In 2005, federal prosecutors charged Kennedy with failing to pay more than $200,000 in income taxes, according to reports at the time. In 1987, he pleaded guilty to selling between 10 and 12 ounces of cocaine, according to reports.
And:
"Kennedy and Farrell became friends and eventually went into business together. In 2002, they opened a sports bar in Montgomery called The Bank Bar and Grill."
Still, they went ahead and launched a coal-servicing company with 13 giant bulk storage tanks just a few feet from the Elk River, with a large total capacity of 4 million gallons. Last week, the spill at the site was only discovered after local residents called authorities to complain about a foul odor in the air. When officials got to the facility, the hazardous chemical -- 4-methylcyclohexane methanol -- was leaking out of a tank and into a faulty containment area that was also leaking, right into the river. Officials from Freedom Industries hadn't told police, regulators, or anyone else about the hazardous chemical spill, nor were they doing anything about it because....freedom?
Clearly, this was also a failure of adequate regulation:
"It's unclear whether the West Virginia American Water Co. was aware the chemical was being stored there but the company did acknowledge it was unprepared for MCHM with a spokeswoman saying that "this was not a chemical we were familiar with." They were hardly alone. Public agencies and officials are "all acting a bit surprised that this mystery substance was being stockpiled so close to a crucial water intake, and shocked that something like this could have happened," notes the Charleston Gazette.
According to another account, state environmental regulators had not been to the site since 1991!
And yet this is the utopia that so many conservatives want, isn't it?...businesses getting free reign, without a pesky regulator in sight. In Washington, GOP lawmakers have been seeking to defang and weaken the U.S. Environmental Protection Agency, in order to give businesses -- especially companies in the energy business, including coal -- the ability to operate with minimal scrutiny. In West Virginia, this is what a Republican state lawmaker said just last week:
'We are regulated to death,' he said. 'Businesses need predictability. The governor could have said something about that.'
Interesting choice of words, as it seems that West Virginia was nearly NON-regulated to death." - William Bunch