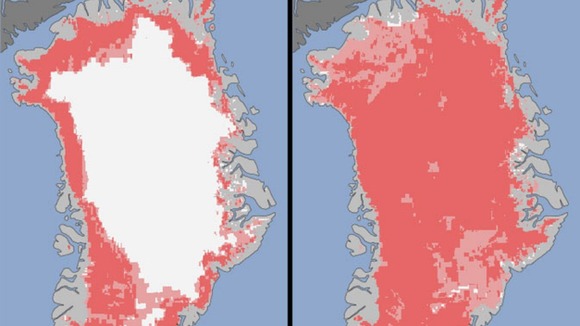 NASA: Sudden Massive Melt in Greenland AP
Ninety-seven per cent of surface ice covering Greenland melted in just four days in July, new Nasa data has revealed.
Nearly every part of the ice cover of Greenland experienced some melting of its surface between 8th and 12th July, according to measurements from three independent satellites analysed by NASA and scientists from the University of Georgia and City University of New York.
"This was so extraordinary that at first I questioned the result: was this real or was it due to a data error?" said Son Nghiem at NASA.
The melting spread quickly. Melt maps derived from the three satellites showed that on July 8, about 40% of the ice sheet's surface had melted. By 12th July, 97% had melted.
This extreme melt event coincided with an unusually strong ridge of warm air, or a heat dome, over Greenland. The ridge was one of a series that has dominated Greenland's weather since the end of May.
"When we see melt in places that we haven't seen before, at least in a long period of time, it makes you sit up and ask what's happening?" NASA chief scientist Waleed Abdalati said.