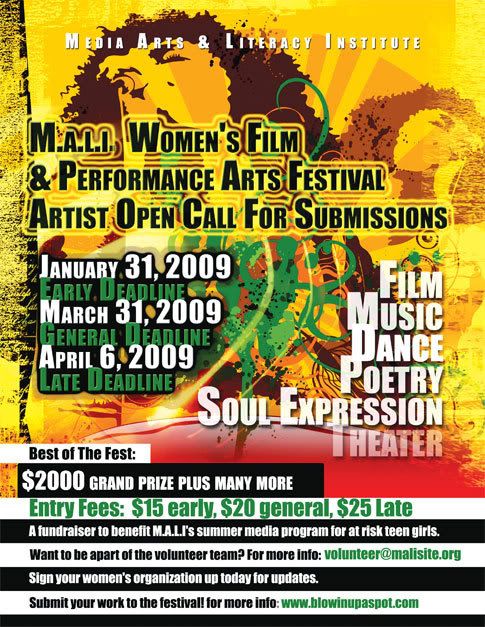 M.A.L.I. WOMEN'S FILM AND PERFORMANCE ARTS FESTIVAL
Austin, TX
May 28th - 31st, 2009
$2000.00 cash giveaway for the Best Of The Fest
For entry forms
http://www.blowinupaspot.com/Forms_Tickets. html
Running for it's 9th year, The 2009 M.A.L.I. WOMENS FILM AND PERFORMANCE ARTS FESTIVAL is having an open call for women musicians, writers, filmmakers, dancers, spoken word artists(with music), and workshop presenters, to submit their work. This festival is wholly focused on the contributions of all women. View website for more details: www. blowinupaspot.
EARLY DEADLINE FOR SUBMISSIONS IS Jan. 31, 2009.
GENERAL DEADLINE FOR SUBMISSION IS March 31, 2009
LATE DEADLINE FOR SUBMISSIONS IS April 6, 2009 _______________________________________________________
MUSICIANS - There are 10 showcase slots available in each category. Showcase performances may run between 10- 25 minutes as a short showcase or as a full length showcase of 45 minutes in any of the following genres: Acoustic, Electronic/Dance/DJ, Rock, Jazz, Hip Hop, R&B, Latin, Blues, World, Funk, Spoken word (with music), singer/song writer, classical, funk, and reggae.
Band submissions must be woman fronted with at least 50% women band members.